Friday night saw the great and good of Exeter's business community gather to celebrate some of the region's very best. From tourism and hospitality, to small businesses' and the highly-anticipated Excellence in Manufacturing (created and sponsored by Van Guard), the awards night showed just how diverse Devon's industries are.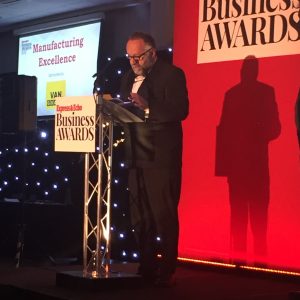 After several awards and plenty of celebrations, it was the turn of the Excellence in Manufacturing and we couldn't be prouder to announce that the award was given to Amtek Plastics UK Ltd.
Amtek Plastics UK Ltd had to fight off some stiff competition from Hunter Stoves Group, manufacturers of world-class stove ranges; Fravacado, the makers behind the innovative avocado ice-cream (gluten-free and suitable for vegans) and TasTe of Sidmouth, impressive manufacturers of a wide-range of Devon ice-cream.
The Excellence in Manufacturing Award was open to all in the Exeter region with applications encouraged from every sector including start-ups, private and public, as well as community organisations, light manufacturing and heavy industry. It recognised the continued growth of the industry within the region, with many leading national manufacturers now based in Exeter and the surrounding area.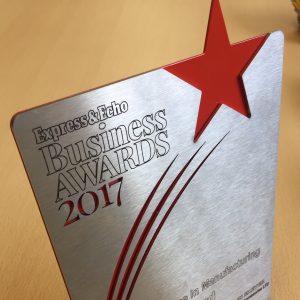 Alongside £10,000 worth of advertising across the Trinity Mirror network for the Business of the Year, each winner received a bespoke trophy designed in-house at Van Guard and made using our on-site laser cutter and manufacturing capabilities.
Amongst the frivolities, Friday was also an evening to commemorate the tireless work of Exeter's fire brigade following the devastating fire at The Royal Clarence Hotel in October 2016. The fire brigade band paid tribute to the incredible efforts of the firefighters on that day with a poignant performance at the start of the evening.
Through the introduction of the Excellence in Manufacturing Award it has helped to encourage manufacturers in this region to enter the awards and shout about what they do best. It has also shone a light on the incredible quality of manufacturing in this region. We hope that as the award enters its second year, further manufacturers in the region will feel encouraged to enter.
We know there are plenty of amazing manufactures in Devon and through these awards we hope they gain the recognition they deserve.
Congratulations to all who were shortlisted, our incredible winner Amtek Plastics UK Ltd and to all other category award winners.
What an amazing night!