I can't believe that it is nearly a week since the CV Show finished. Where did the time go? After all that build up, planning and attention, and it's gone in a blink.
Needless to say, we loved it! We were absolutely delighted with our debut and couldn't have asked for it to go any better. The stand was so professional – and over delivered on a number of fronts. Our visitors thoroughly enjoyed the fudge and we made a lot of friends with our cream teas – all to celebrate being a British manufacturer based in Devon. We received over 100 entries into our competition to win a weekend in at a luxury 5-star hotel in Devon – so there is lots to follow up on now we're back in the office.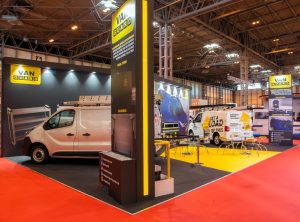 Tim from HaloRail and Federico from Gentili were excellent guest hosts on our stand and received significant interest in their safety rail and ladder racking systems.
The star of the show though had to be our brand-new range of aluminium van racking. Everyone who looked at it was impressed by its lightweight but strong construction, versatility and functionality. Most importantly, they loved the ability to kit out the back of a van at an affordable price. We still have some tweaks to make but watch this space. Our new aluminium racking will be coming to a distributor near you and available online soon.
Most of all we want to say thank you to everyone who helped make our first appearance at the CV Show a success: our stand designers (Design Craft Exhibitions), our product designers, the guys on the shop floor, our customer service team, our sales and marketing team, our leadership team, HaloRail and Gentili. Above all, we want to say thank you to our distributors and customers. We loved welcoming you to our stand, hearing your feedback and learning how highly you regard our products, customer service and overall approach. Back at you for your wonderful support.
We will endeavour to build on this achievement and continue to go from strength to strength. Just try and stop us!