Exeter College Apprentice joins Team VG
Posted On: 29th November 2017
Did you know that our Managing Director, Barry Woodward, started out as an apprentice at Van Guard (formerly GK Land Engineering) back in 1979? Van roof racks and van accessories may not have been on the horizon at that time, but Barry has worked his way up the ladder to the deserved role as Van Guard's Managing Director and co-owner. Ever since then, we have had a great relationship with Exeter College, which has allowed us to take on our latest apprentice.
We're delighted to have on board Tom Strachan, 17, from Exeter College, who is studying the Engineering Intermediate Apprenticeship (Performing Engineering Operations) that gives students an understanding of the wide range of mechanical engineering processes in an engineering workplace.
Having spent time in his Grandad's shed growing up, when it came to choose his A Levels, he decided to go into engineering at Exeter College after a conversation with his Dad.
"I went to the College and had an interview with one of the electronics lecturers. He said that I did not have an engineering background, but I went for it and I was accepted onto the engineering course. I really enjoyed it. And then after my first year, I got the option to do an apprenticeship. It meant that I could earn money by doing it and allows me to do my level 4 & 5 in the future. I thought it was a no-brainer. Went for it and I'm really enjoying it."
[caption id="attachment_1437" align="alignleft" width="450"]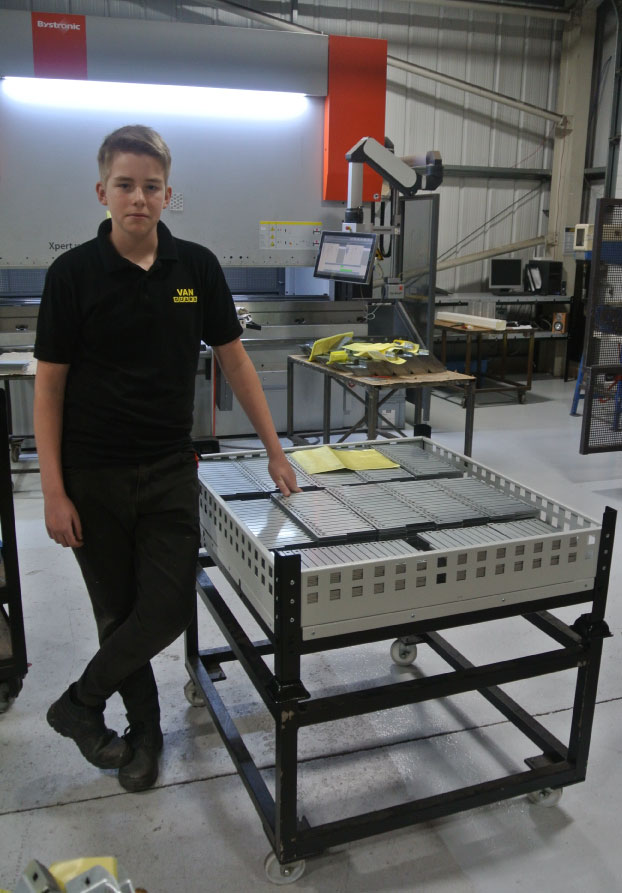 Tom with one of the new stillages[/caption]
Having only been at Van Guard for 3 months, responsibility has been shown in Tom by allowing him to produce and assemble new stillages for the Production line. By using both the investments in the latest laser and press brake technology and programming software, combined with the youthful energy from Tom, it has enabled Tom to produce and assemble complex fabrication from design concept to production samples with only a few steps.
Working closely with Alan Lewis, Workshop Supervisor, Tom hopes to be able to operate the laser on his own soon.
"Everyone helps out down there, with engineering experience. I'm trying to show balance between initiative and checking with the team. When I'm 18, I can get my forklift licence. I'm having to ask and wait on people but once I can do this, I reckon this will be the point that I can be left to it completely."
This just goes to show that with the right investment and the willingness to embrace the changes in technology, combine this with the current skills within the company to act as guidance throughout the processes of manufacture, we can help mould the engineering youth of today into our Engineers of tomorrow.
During his time at Van Guard, Tom will be assessed by his College Lecturer, Keith Hammon. Not only does Keith teach in the College, he visits and assesses the students in the workplace meaning he sees Tom in class and at Van Guard, allowing more of a cohesive apprenticeship.
Keith Hammon, Lecturer B (Skills Officer) – "Exeter College is an excellent college. The outlook from Exeter is good and the quality of the students they get is good as well. They're all intelligent, committed young men. They're all willing to learn."
On Tom - "The two things that stand out are 1, how short amount of time he has been with the business but walking around with him how much he knows about the business, but also how he is self-managing his time. He's being proactive which is a mature thing. Tom in particular is very mature, very articulate, well presented. Very personable, which is what you want in business. If he carries on in this vain, the sky is the limit."
Managing Director, Barry Woodward commented "Having Tom make such a personal positive impact on the shop floor & progress so well, so quickly, is yet another vindication to not only the management but all staff here at Van Guard that our decision to invest in training is right for the future of our business.
From Tom's very first day here we discussed how exciting being at a company like ours with several levels (Design / Production / Sales / Marketing / Accounts) can be and Tom has certainly adopted our ethos and really feels part of "Team VG"."
The future? Who knows but, as an active member of the Made in Britain campaign with a real vision to welcome AI, automation & the like into our manufacturing facility, I see apprentices as the natural way to actually achieve future skills concerns and I hope, no I know, that is what we are going to achieve."