Introducing the HaloRail® - the new fall arrest safety rail
Posted On: 31st March 2017
As we lead up to our debut at the CV Show, we thought we would showcase one key product a week to tempt you to visit our stand. The first one up is HaloRail® - a totally new concept from Van Guard Full Fit to protect staff when working at height on a tipper bed. So, how did this come into being?
Following an enquiry from a local highways contractor for a tipper safety rail, Van Guard Full Fit found that nothing existed in the market that was fit for purpose. Not only that but the Health & Safety Executive had a specific campaign identifying falls from vehicles as a major risk, citing over 2000 accidents per year. Further investigations revealed a huge financial impact to businesses from these accidents, not just personal claims, but loss of new contracts, the inability to fulfill existing contracts, employment of staff to cover those injured etc.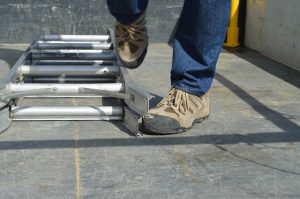 We all like the war stories so here are a couple….
One potential client had recently paid out a six-figure settlement to a contractor who fell off his own vehicle whilst working on their site, citing they had failed to identify it as a hazard and warn him.
Another case became known where although webbing straps were attached to protect personnel from falling, these had been left loose and offered minimal protection. Having fallen and grabbed the webbing to save himself, the operative still fell from the vehicle trapping his ankle between the kerb and wheel. Two operations and 18 months later he was still away from work.
Clearly there is a need to provide adequate protection for anyone working on the back of a tipper, for their own safety as well as protection for the business. So, VGFF decided to design something new that would protect everyone involved whilst being easy to install without the need for specialist welding equipment.
Initially they considered a metal rail configuration which surrounded the rear vehicle body and provided a firm fixed rail to protect anyone standing on the bed. However, metal is far too heavy and would negatively impact upon the available payload of the vehicle. It would also be attractive to anyone wishing to remove it and cash it in at the scrapyard!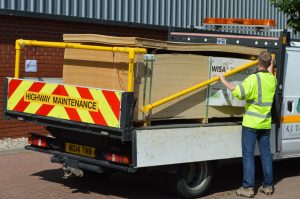 Van Guard Full Fit also realised that a fixed rail, whilst providing the necessary protection, would prevent easy loading, and unloading of the vehicle. Consequently, they needed to find a way to make the system removable and allow access to the vehicle's bed, but also strong enough to give the necessary protection. Furthermore, any system with removable sections is vulnerable to leaving pieces behind at the roadside, or yard, thereby negating the effectiveness of the system.
So, where did VGFF go from there? Well, first they settled on Glass Reinforced Plastic (GRP) extrusions, which are also available in 'high-vis' yellow. Not only does this keep the weight of the product down to a bare minimum, it is also extremely strong and has little or no scrap value. It is non-conductive, so is safe for use around any flammable materials or gasses.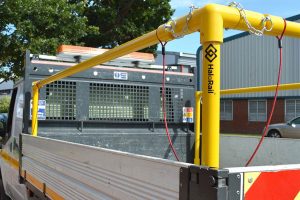 To make the cross rails removable, they went about designing restraining cables and spring loaded pins to allow easy removal of the required section, whilst leaving everything attached to the overall system.
So, after significant research, and a few prototypes later, HaloRail® was born. After three months of trials in the harsh environment of highways maintenance exposing the rails to various materials from sand and gravel to hot tarmac, Van Guard Full Fit have received the BIG 'thumbs up'.
We are delighted to highlight this simple yet effective product at the CV Show. With the need to prevent our staff from accidents at work becoming increasingly paramount, HaloRail® fits the bill nicely – in more ways than one.
So, come on down! We look forward to welcoming you to our stand 5H110.