Love Your Van Winner Announced
Posted On: 10th May 2018
Congratulations to James Horner the winner of this year's Love Your Van competition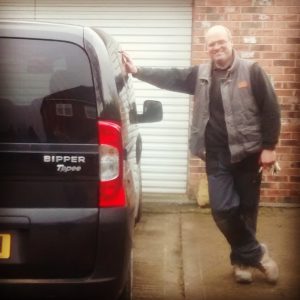 First of all, we want to say a huge thank you to all who entered our #LoveYourVan competition. We had so many fantastic entries. James Horner won the hearts of the Van Guard Team, with a photo of him and his Bipper. But not only that, he accompanied his photo with a poem about why he loves his van.
I love my little Bipper, 
it really is so sweet. 
It takes me where I need to go 
and doesn't miss a beat. 
I love my little Bipper, 
It's small, but roomy too. 
Everything just fits inside, 
from kitchen sink to loo! 
I love my little Bipper, 
it never lets me down. 
In a 'Love Your Van' Competition 
it's sure to win the crown!!
To all of those who entered but were unsuccessful this time we would like to share our gratitude at taking the time to enter. We had such great fun going through all the entries.