Stop marks & scratches to your pipes & conduit!
Posted On: 25th November 2016
Did you know that we are the only commercial van accessories manufacturer in the UK to make lined Pipe Carriers? Our unique PVC liner can save tradesmen time and money by ensuring that trunking and conduit are not damaged when carried between jobs.
At least, that is what Electricians at the Tool Fair in Coventry told us, but we needed to check it out for ourselves. In our tests, we noticed that there was clear discoloration and marks on the plastic conduit transported in unlined Pipe Carriers, compared to that in the lined Pipe Carrier that was completely undamaged. It was like sliding the conduit into a glove. (No need to ask your Nan to knit a long sock to keep your pipes safe. Someone did that, you know? Yes, really. They did!) Carrying your plastic pipes in our lined Pipe Carrier means there is no need to wipe down stock ready for use, or even worse, scrapping damaged stock before it can be used.
[caption id="attachment_872" align="aligncenter" width="400"]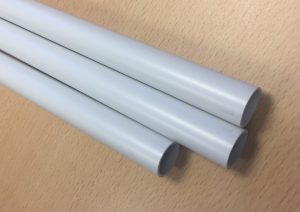 Conduit - Before[/caption] [caption id="attachment_873" align="aligncenter" width="400"]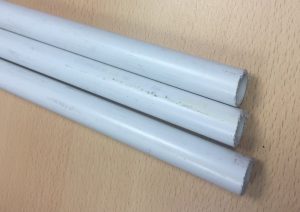 Conduit - After[/caption]
We have a range of lined and unlined Pipe Carriers in two sizes (Standard & Maxi) as well as 2m & 3m lengths, with the ability to customize the length to your requirements. Our unlined Pipe Carrier is suitable for carrying copper pipes, whilst the lined option is more suited to transporting plastic tubing.
[caption id="attachment_876" align="aligncenter" width="640"]
3 Metre Standard & Maxi Pipe Carriers[/caption]
All our Pipe Carriers sport an aerodynamic front end cap whilst the dual opening of the Standard size makes for easy loading. The fully integrated locking mechanism means there are no padlocks to lose.
For further information on our range of Pipe Carriers, please look at our pipe carrier page or contact us for a chat on 01392 368 351 – we're always happy to answer any of your queries.