Van Racking Ideas for Electricians
Posted On: 22nd August 2018
The inside and outside of every electrician's van will most certainly differ. Organisation is key but it's what suits your individual requirements. So, if you are looking to kit your van out to safely transport your range of electrician's tools, components and materials, here is Van Guard's van storage and van racking ideas.
External Van Racking Ideas
You can't carry your ladders, conduit or tubing without a van roof rack. Van Guard design & manufacture multiple external van racking solutions allowing you to choose the best option for your business needs.
Van Guard's ULTI Bars provide you with a simple load carrying offering by allowing you to choose the number of individual bars required based on the number of fixing points on the van's roof. Each bar takes around 10 minutes to fit (or closer to 5 minutes in the case of an electrician!) with brackets bespoke to the fixing points. Manufactured from anodised aluminium, Van Guard's van roof bars are lightweight yet considerably strong and heavy duty having recently been tested to carry up to 80kg per bar distributed evenly to the maximum load carrying capacity. This gives you peace of mind that you can load all shapes and sizes of ladder.
And whilst on the topic of ladders, why not invest in a ladder roller to attach to the rear ULTI Bar, or a Van Guard Ladder Slide & Secure system – both providing a hassle-free way to load and unload your ladders quickly and easily.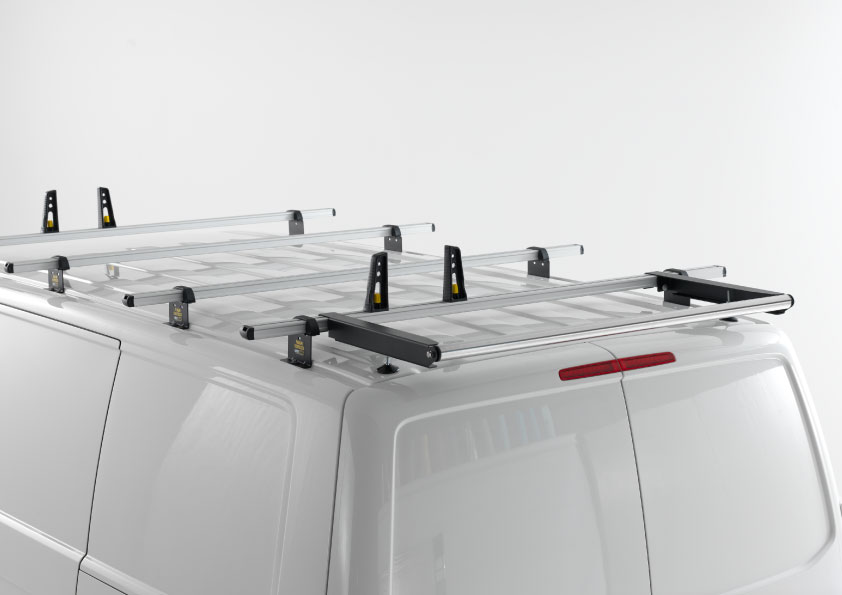 The ULTI Rack from Van Guard is a complete electrician's roof rack. Perfect for all van models, especially medium to large models, the built-up side rails and full-length rear ladder roller give you a smart rack to maximise your load. Time equals money so with this in mind, our ULTI Rack features the innovative Click & Lock mechanism which makes fitting quicker and easier than any other van roof rack on the market.
Finding it hard to make up your mind on a Van Guard roof rack? Check out our ULTI Rack vs ULTI Bars blog to view the main differences.
Electrician's Pipe Carrier
How many times have you had to wipe down your conduit or trunking after transporting it in your metal Pipe Carrier? Not only is it an inconvenience when you get to your job, but it does not help with your professional look. Do you want your customer to see you clean off the dirt? Well, did you know that Van Guard produce a lined Pipe Carrier designed to prevent damage and marking to your conduit and trunking? Available for next working day delivery, a range of Van Guard Lined Pipe Carriers are available depending on your requirements.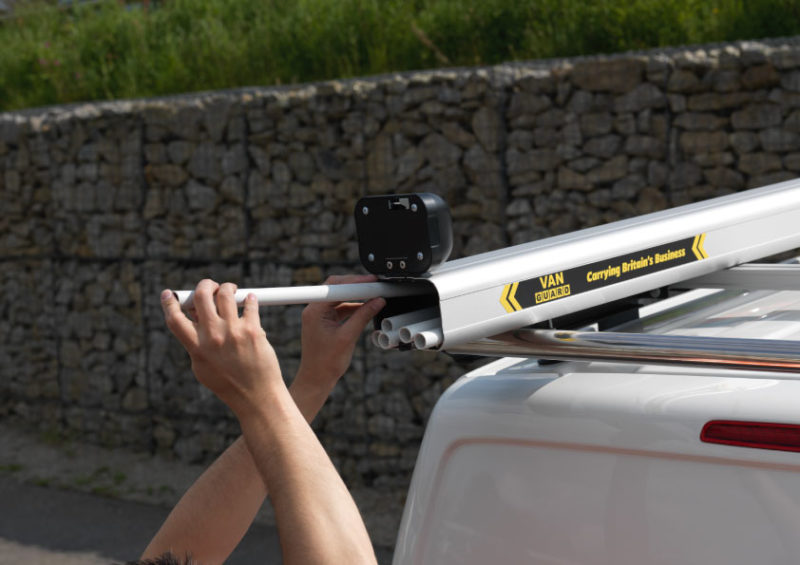 Internal Van Racking Ideas
How do you currently store and transport your power tool boxes? Stacked up in the corner of your van, kept on a DIY racking system, or thrown in a plastic container? You'll know where they are kept in your van but here are our ideas on the latest in professional internal van storage.
Trade Van Racking
Van Guard's range of Trade Van Racking units provide a lightweight yet strong and flexible metal racking solution to store and organise power tools and components effectively and efficiently. Manufactured right here in Britain, the Trade Van Racking range is constructed in the main from aluminium, keeping the weight of the units as low as possible with load capacity and fuel consumption in mind. Safety is paramount which is why Van Guard's racking has passed the industry standard crash test, meaning you can be confident that your goods are safely secured in the back of your van.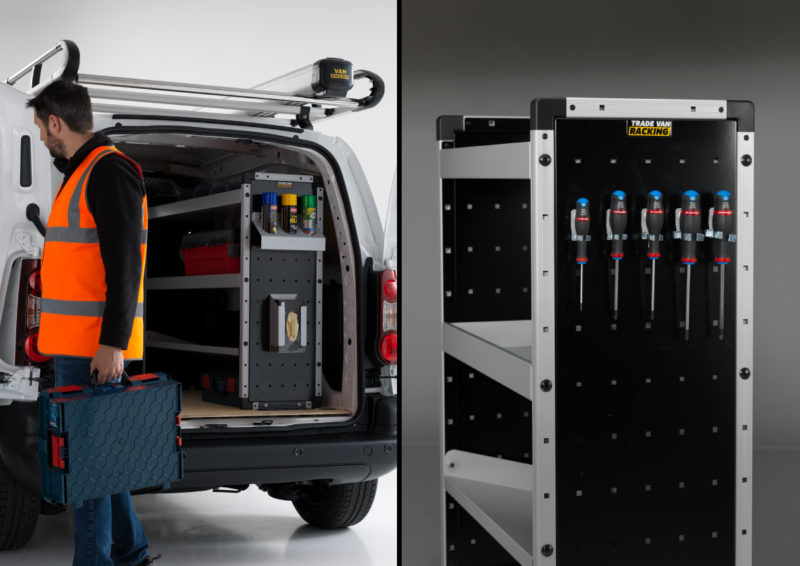 The Trade Van Racking units are completely flexible – the positioning of the shelves can be adjusted, and with different height units and different length shelves available, you can easily tailor the racking to your exact needs. Shelves have been designed to take the most common of tool boxes on the market, so you can be safe in the knowledge that your existing tools can be comfortably accommodated. The angled shelf is designed to slope backwards so that your tool cases can be simply slid in and out.
Keeping the design as simple as possible has not only helped to keep the costs down, but it has also ensured that the Trade Van Racking is incredibly easy to build and fit. Due to how it is designed and constructed, the Van Guard's racking can easily be transferred from one van to another in the future making it a great investment in the long term.
A plethora of bespoke accessories can be purchased to allowing you to fully utilise the shelving and personalise the Trade Van Racking to get it exactly as you want and need. Plastic bins can store small fixings and fixtures, with spring clips and hooks providing easy access and storage of screwdrivers and drill bits.
For the storage of larger tool boxes, Van Guard have a range of Tool Stores that can be fixed to the van floor. All Van Guard Tool Stores come with an integrated locking mechanism providing security to your tool boxes.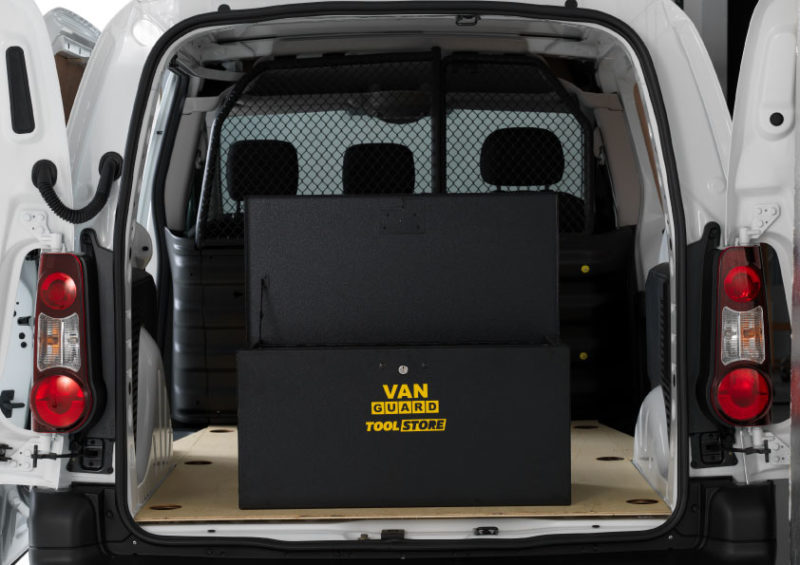 For further information on Van Guard's range of van accessories for electrician's, please

contact us

.