Van Storage Ideas
Posted On: 6th February 2020
Struggling to organise your van? Don't know what will work with the space you have? Here are some van storage ideas to get you started!
When your van is your 'office' it is vital that you make the space work for you and your requirements. There are many aftermarket products that can help you organise your workspace. Appropriate internal and external storage solutions will make you far more efficient in the day to day running of your business. Ensuring your equipment and supplies are stored away will not only look and feel more organised but it will prevent any damage from things flying around the load area of the van whilst in transit.
When purchasing internal and external storage solutions there are a few things you need to consider.
• Your vehicles payload capacity! – You must not exceed the payload capacity. This is both highly dangerous and illegal.
• Weight distribution – Ensure that when your vehicle is loaded with all the tricks and tools of your trade you are distributing the weight evenly throughout the vehicle.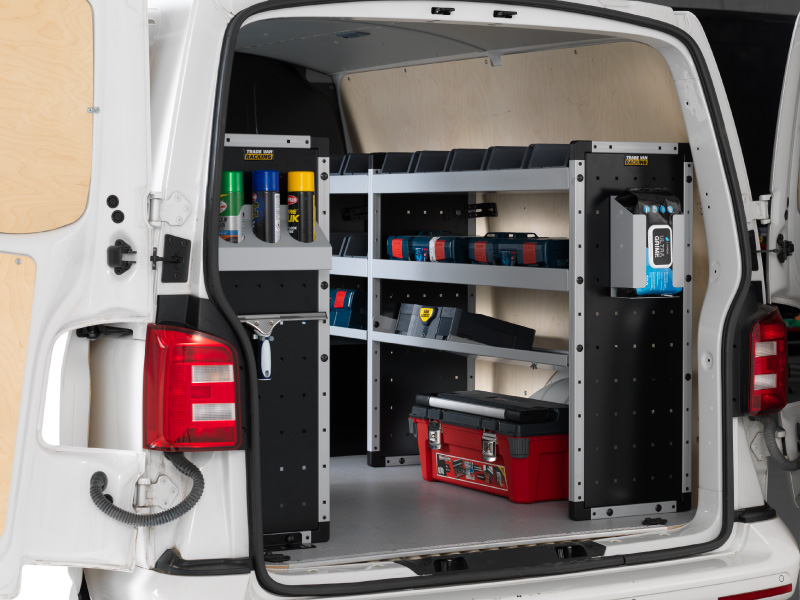 External Storage Solutions Ideas
Let's start off with external storage options. This can become a bit of a minefield if you don't know exactly what you are looking for. There are two main options for roof systems, van roof bars or a van roof rack. Both systems will be vehicle specific, designed to connect the roof bars to the manufacturers fixing points on the roof. The information required to ensure the correct roof bars are purchased should be in the vehicle's handbook or alternatively you can send us an image of your van and we should be able to advise the make, model, wheelbase and roof height of your van.
The ULTI Bar van roof bar is made from lightweight aluminium, designed to add as little weight as possible to your vehicle. Roof bars have been used by trades people for years to carry larger items that don't fit in the load area of the van. If it can't fit in the load area, secure it to the top. Life is made so much easier if you have roof bars (or a roof rack) to secure it to, whether you are carrying ladders, 8x4 sheets or in some cases kayaks for that weekend away. With the addition of eye bolts, ratchet straps or load stops, you can easily and safely secure the load to the roof of your van. This ensures that you are utilising every inch of your vehicle, no space is wasted, even on the roof!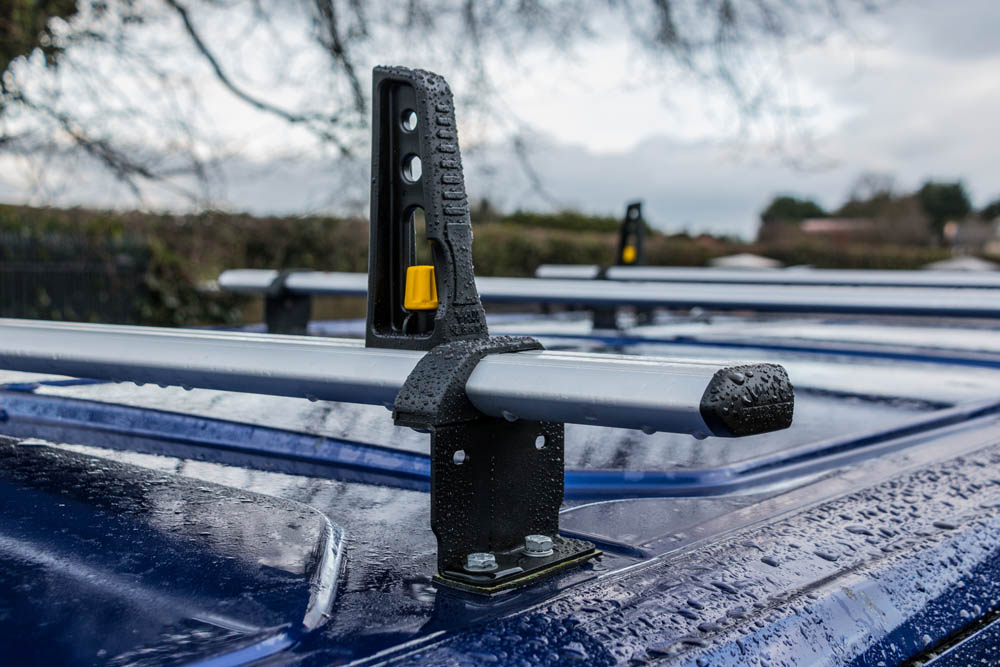 Do you need something a little more than a few bars on your roof? Our ULTI Rack van roof rack may be just what you need to maximise your roof load carrying capacity. Designed to reflect a traditional 'builders rack' the built-up side channels will enable you to guide materials and ladders safely on the roof, assisted by a full length rear roller. Whilst there isn't a t-track system on the roof rack you can utilise ratchet straps and ladder clamps to ensure that the loads on the van roof are securely fastened to the roof. This is a great way to utilise the space you have on the roof of your van, without comprising any space in the load area of your van for larger items and equipment.
Van Roof Accessories
• Rear Roller
So, you have van roof bars or a van roof rack already on your vehicle. The next step is ensuring you are safely moving the loads on and off the roof. There are several ways you can do this. If you have van roof bars, we would always recommend a rear roller to attach to the rear bar. This will assist with the loading and unloading of any materials you wish to carry on the roof. Adding a rear roller will also protect the roof of your vehicle from becoming damaged when these items are loaded. If the rear roller is purchased at a different time to the roof bars you will need to ensure that the rear roller is from the same manufacturer as your roof bars. Each manufacturer would have designed the rear roller to be compatible with their roof bars. The roof racks will be supplied with a full-length rear roller so no need to add this to your shopping list.
• Rear Door Ladder
If you have a higher roof vehicle you may find that a rear roller doesn't quite cut it by itself. You may need additional help gaining access to the roof. A rear door ladder can be installed to the rear door of the vehicle and will provide an extra boost to reach the rear roller and any materials being carried on the roof. As well as being used to access the roof to secure the load into place.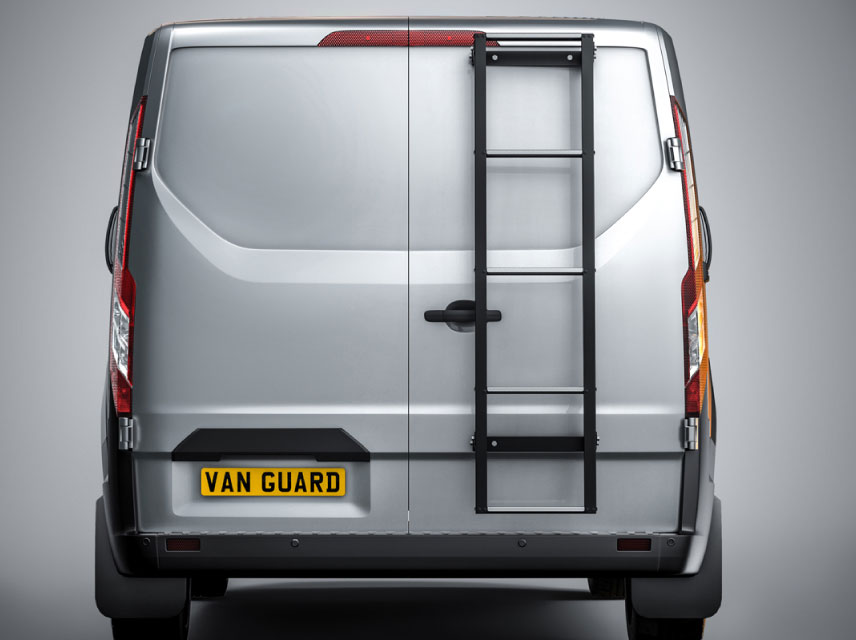 • Ladder Loader
Do you carry ladders regularly? Concerned about getting onto the roof of your vehicle to secure the ladders? Well, a ladder loader may be just what you are looking for. Designed to allow the loading and unloading of ladders from the ground level. The ladder loader has a gas strut mechanism which allows for ladders to be stowed away easily and quickly without getting onto the roof of the van. If your vehicle has a high roof this may be a safer solution for you to ensure that that the ladders are secured to your vehicle and you and your team aren't climbing onto the roof to secure the ladders into place. Safer and easier, win win!
• Additional van roof bar accessories
Securing the load to the van roof is as important and getting the gear up there safely. Van roof bars have a t-track system within the roof bars which will allow accessories to be added to the roof bars Every set of Van Guard roof bars will come with two free pairs of load stops, designed to fix loads into place securely. Utilising the internal sliding rail plates in the roof bar, they can be positioned anywhere along the length of the roof bar to accommodate whatever load you are carrying. Alongside the load stops you can also utilise eye bolts and ratchet straps to ensure that anything mounted to the roof is firmly secured into place. The last thing you want is the material on the roof to come flying off in transit!
• Pipe Carriers
It isn't always possible to secure your materials to the van roof with some load stops and a ratchet strap. Pipes, conduit and copper piping require a slightly more sophisticated set up. That's where the pipe carrier comes in handy. Protecting your pipes and conduit from the elements, Van Guard offer a unique option of a PVC liner in their pipe carriers. Which is designed to protect copper piping and conduit from reacting with the aluminium of the pipe carrier. If you are carrying these materials the PVC liner is highly recommended. Along with the standard two and three metre lengths, Van Guard pipe carriers can be manufactured up to six metres in length! With an integrated lock riveted onto the end of the pipe carrier your pipes and conduit will be safely locked away when they aren't required.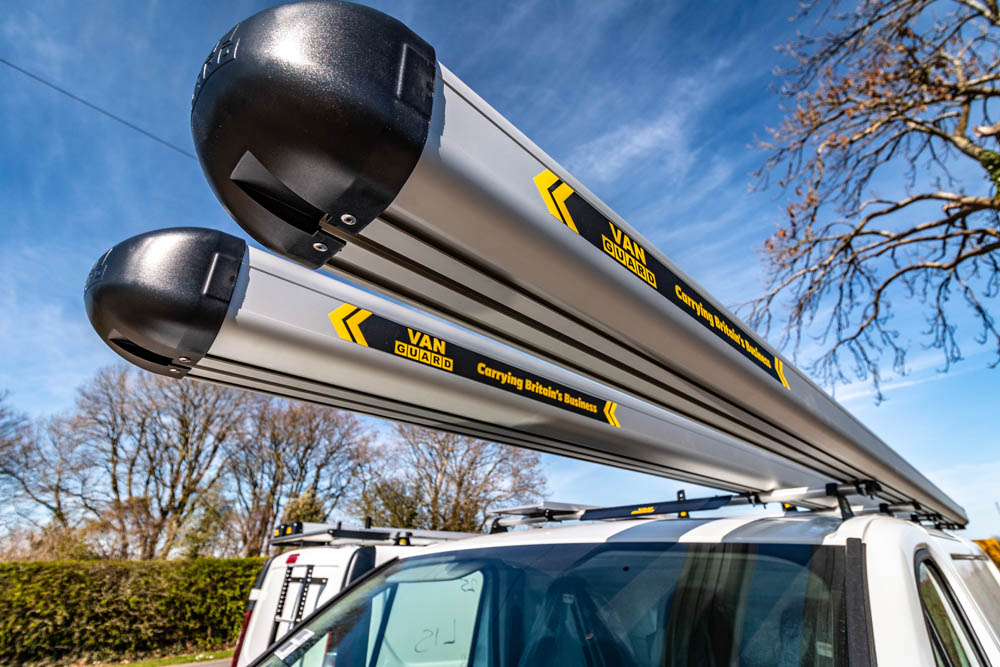 Internal Storage Solutions Ideas
So now we have the external storage options of the van covered, lets see how you can utilise the inside of your van. Some vans have very little space in the load area, so it is vital that you organise the space you do have to provide an effective and efficient workspace. The more organised your van is, the less time you will spend looking for what you need.
Do your toolboxes constantly move around in transit? You may want to invest in a tool they are a great first step towards organising the load area of your van. Designed as somewhere secure to store your tools. Manufactured with pre-drilled holes in the base it enables you to permanently fix the tool store to the floor of your van, and with its integrated lock it is designed to keep your tools as secure as possible.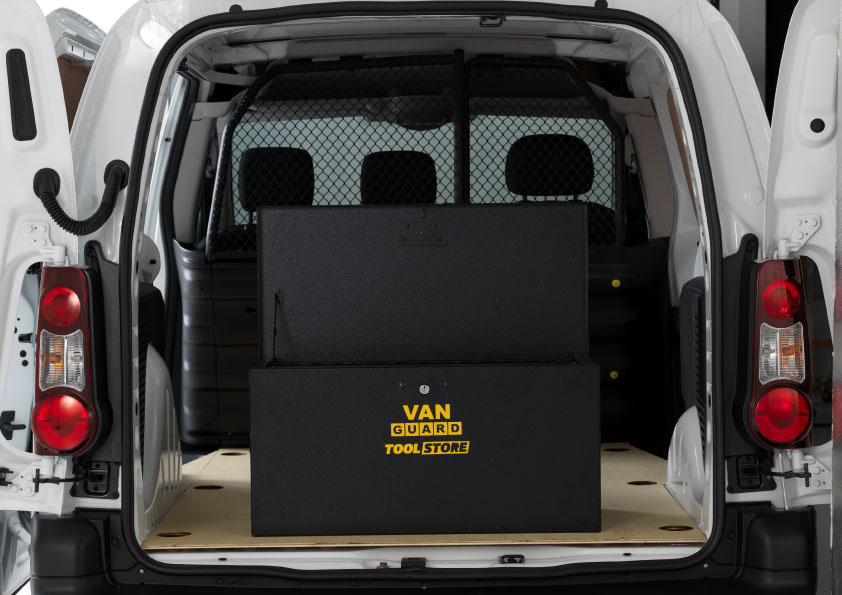 Internal Van Racking
There are so many different types of van racking on the market, when you are just starting to look for storage solutions it can all become a bit overwhelming. You just want something that is going to work for you and your business. The two main options are metal van racking or wooden van racking, as with most things there are pros and cons to both.
When looking for metal van racking it is vital that you consider the weight of the units when they are empty. If the van racking units already weigh a significant amount you will be eating into your van's carrying capacity, even before you load it up with all your equipment. There are many metal van racking solutions on the market, the most lightweight option is aluminium. Designed to be hard wearing, strong and lightweight, this type of racking is worth considering.
Van Guard offer three different width internal van racking units, and two different height units, designed to be as versatile as possible. These van racking systems can be purchased as pre-designed kits, or alternatively, you can use them as a 'build your own' option. The benefit of these units is you can position the shelves wherever is required, adding additional shelving is always an option too. Unsure what units will fit? Just drop us an email with your requirements and internal measurements of your load area, along with the wheel arch measurements and we will be happy to recommend the units that will be suitable.
• Metal van racking accessories
There are some accessories that will be specific to the metal van racking units that you purchase. For example, any additional doors, bins and shelf designers will be specific to the size and shape of the manufactured unit. Adding drop down doors to your internal van racking units can provide you with a closed off storage area, allowing the materials to stay neatly and safely hidden behind the door. Shelf dividers and storage bins will allow you to organise any of your smaller materials without you having to invest in storage boxes. Along with these options there are plenty of universal options that can be found below.
Wooden van racking is also a great option to organise the load area of your van. Although, the racking's starting weight will be higher than aluminium, it does allow for a more bespoke finish. For example, many fitters of wooden van racking will offer standard units and bespoke options. The wooden van racking can be provided with organisational bins, dividers and floor units, this will allow smaller items to have their own space and be easy to find when at a job. Bespoke wooden van racking units can be useful of you have unusual equipment or materials that won't fit in your 'standard' size units.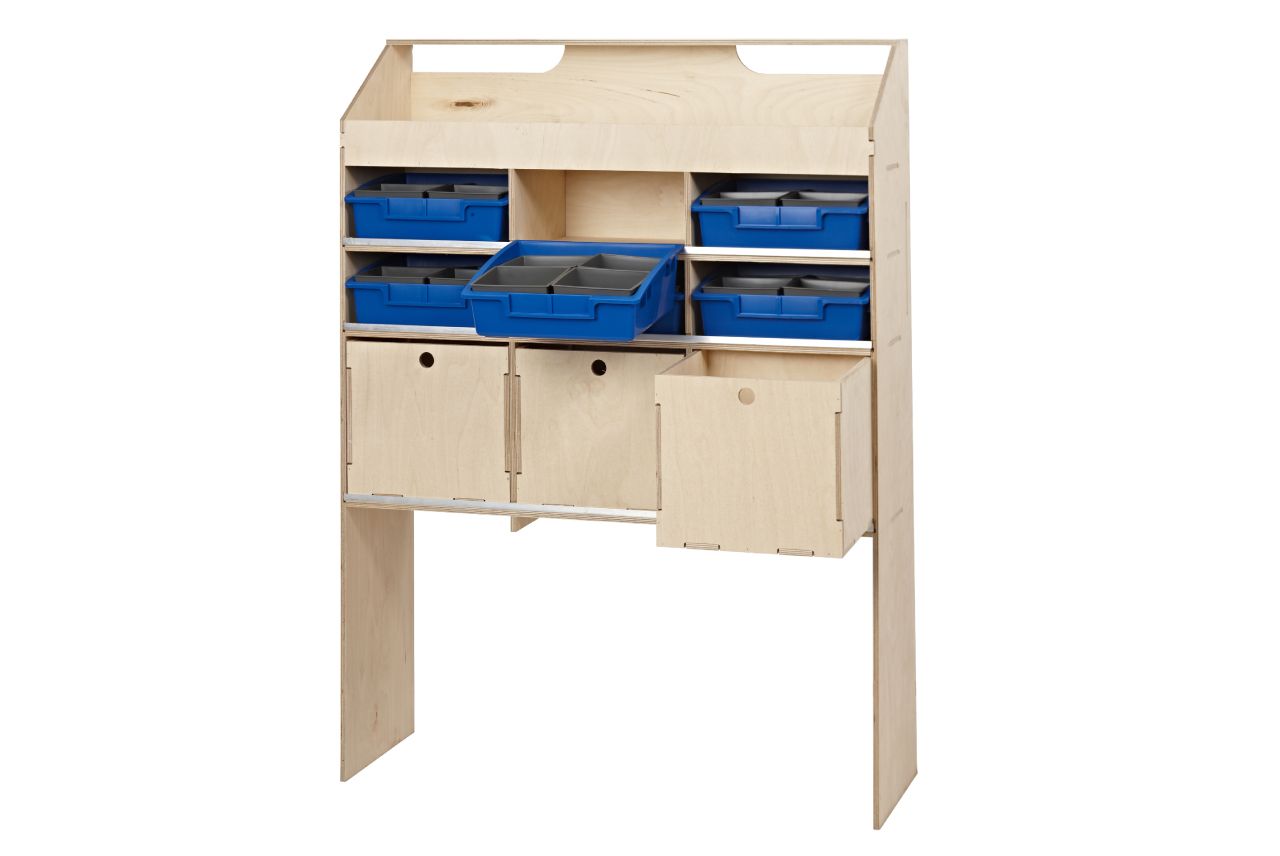 There are many additional accessories that you can add to your internal van racking units. Each of Van Guard's internal van racking accessories are manufactured with an 8.5mm square hole allowing you to secure these into place, whether that is on metal or wooden van racking units. By adding extra accessories to the sides of your units you are maximising on the storage space in your van. It also allows you to have quick and easy access to things you use on a regular basis. For example, a sealant gun holder, document holder or just some handy hooks to hang your high vis or jacket on while you work.

As you can see there are many ways to organise your van to allow you to become more efficient in the day to day running of your business. Not every trades person will require everything on the above list, however as you can see there are plenty of different options to consider when you are kitting out your van.