Van Roof Bars
ULTI Bar Van Roof Bars
Strong & Streamlined
Quick & Easy Installation
Hard-wearing & Made For The Trade
ULTI Bars Van Roof Bars
The ULTI Bar van roof bars are expertly designed for strength, style and durability. The ULTI Bar is the product of over 20 years of pioneering van roof bar engineering.
Each set has been tailor made to your van's specific make and model. Taking into consideration its shape and pre-existing fixing points, our expert design team have created van roof bar systems for almost every type of van on the European market.
Van Roof Bar Features
Exceptional Strength
Constructed from specialised anodised aluminium extrusion sitting on reinforced steel brackets. The ULTI Bar uses the ultimate combination of both materials and engineering techniques to maximise its sheer strength.
Easy Install
Fitting your roof bars to your van couldn't be easier. Simply secure your brackets to your van's fixing points using the bolts provided, attach your roof bars and tighten your optional load stops in the position you desire.
Hard Wearing & Built to Last
Every item and mechanism of our ULTI Bar is built to work rain or shine, day in, day out. The metal roof bars are anti-corrosive and do not rust like steel alternatives. The plastic components contain UV proof additives and the brackets on which the bars sit on are both galvansied and powder coated for extra longevity.
Our roof bars have been designed and tested to safely and securely carry the maximum amount possible on your Van's roof weight limit.
Buyers should be aware that in most cases (assuming correct installation has been carried out) our van roof bars will actually have a greater weight limit than your van's roof. As a responsible British manufacturer with over 25 years of working with the trade public safety is paramount to us and you should not exceed the roof weight limit of your van despite what the carrying capacity of roof bars advertised to you online may state.
For Example
A Ford Transit Custom SWB L1 H1 van's roof weight limit = 150kg
Our ULTI Bar van roof bars have been tested to hold up to 80kg per bar.
Combined strength of our 3 ULTI bar Van Roof Bars = 240kg
How much can Van Guard's ULTI Bar Van Roof bars carry? 
As much as your manufacturers handbook states minus the weight of our bars. You should not exceed your manufacturer's van roof weight limit under any circumstances.
Knowing the importance of this our Ulti Bar van roof bars are designed from highly specialised aluminium extrusion which properties offer heavy duty strength without being heavy itself.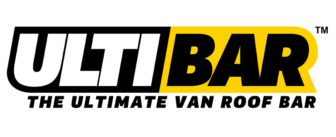 ULTI Bar's Key Features
Strong & Streamlined
Easy to Fit Van Roof Bars
Robust Design & Hard Wearing
Made In Britain
Crash tested & Designed To Your Van's Spec
Range of ULTI Bar Accessories To Complement
Not sure what wheelbase and roof height van you have? Use our van size guide tool
height Van Size Guide