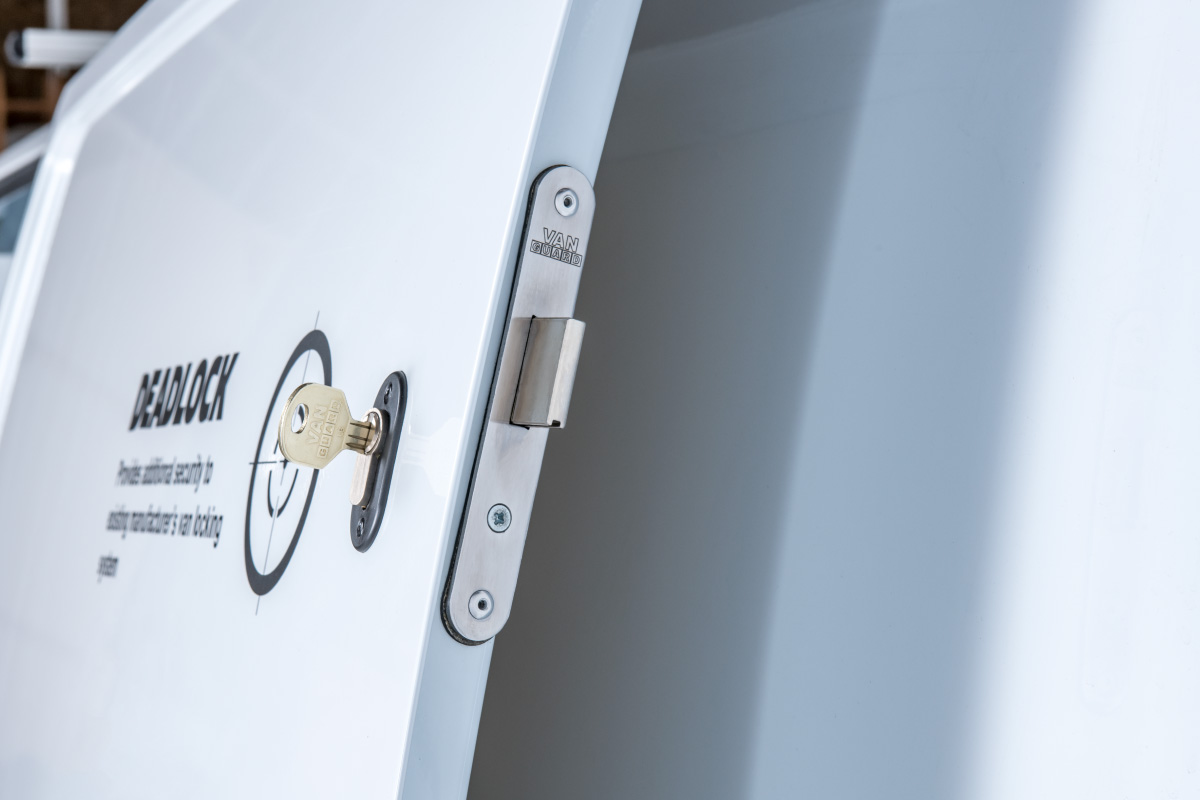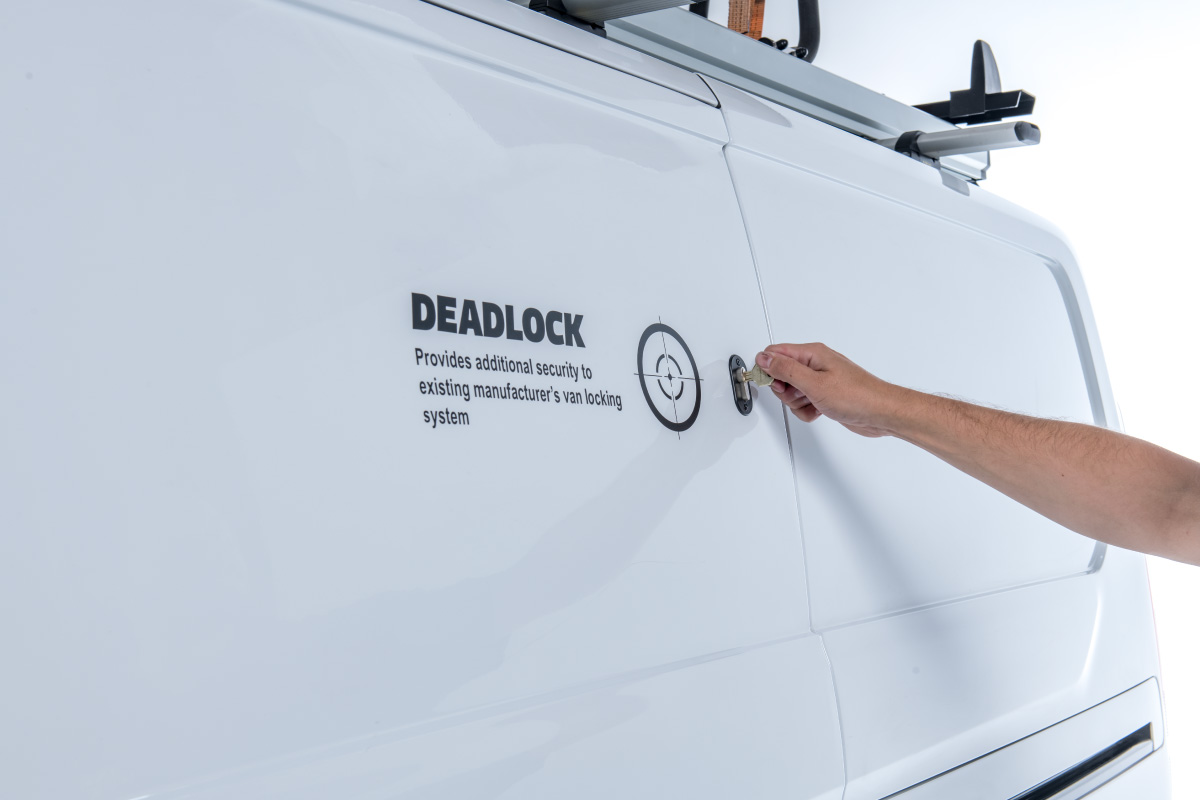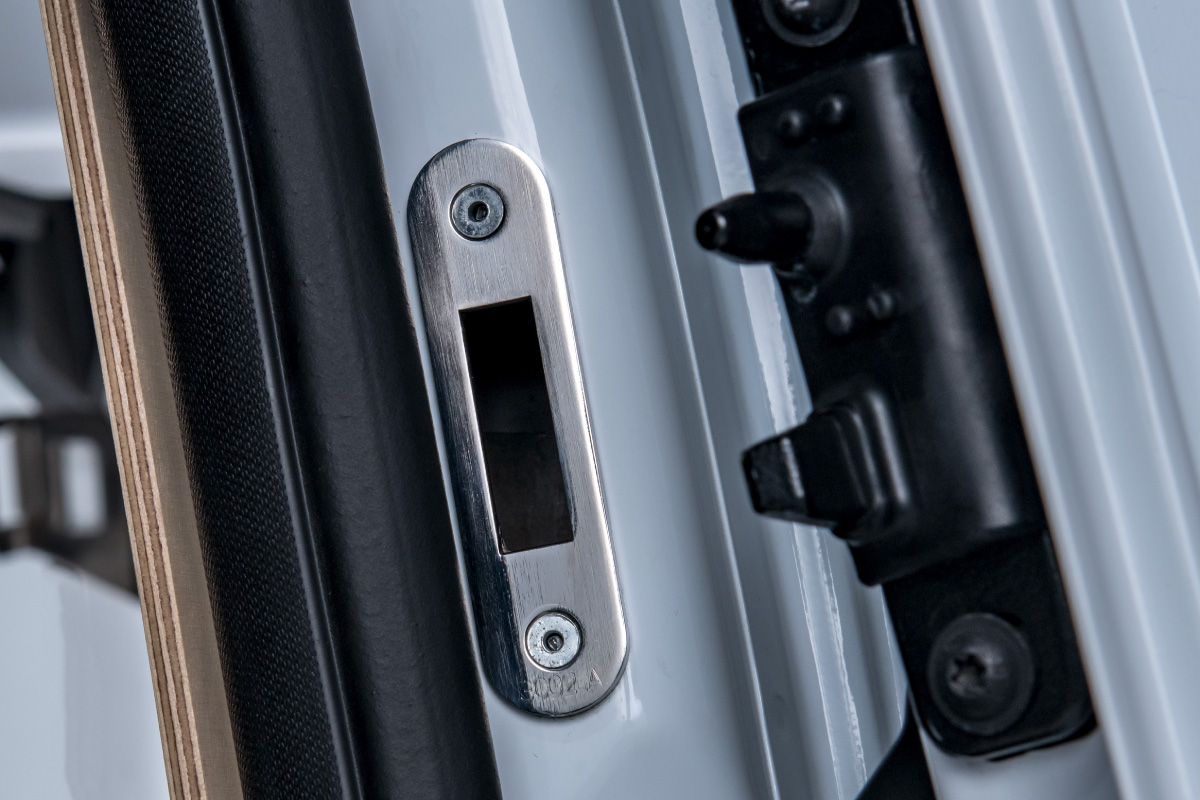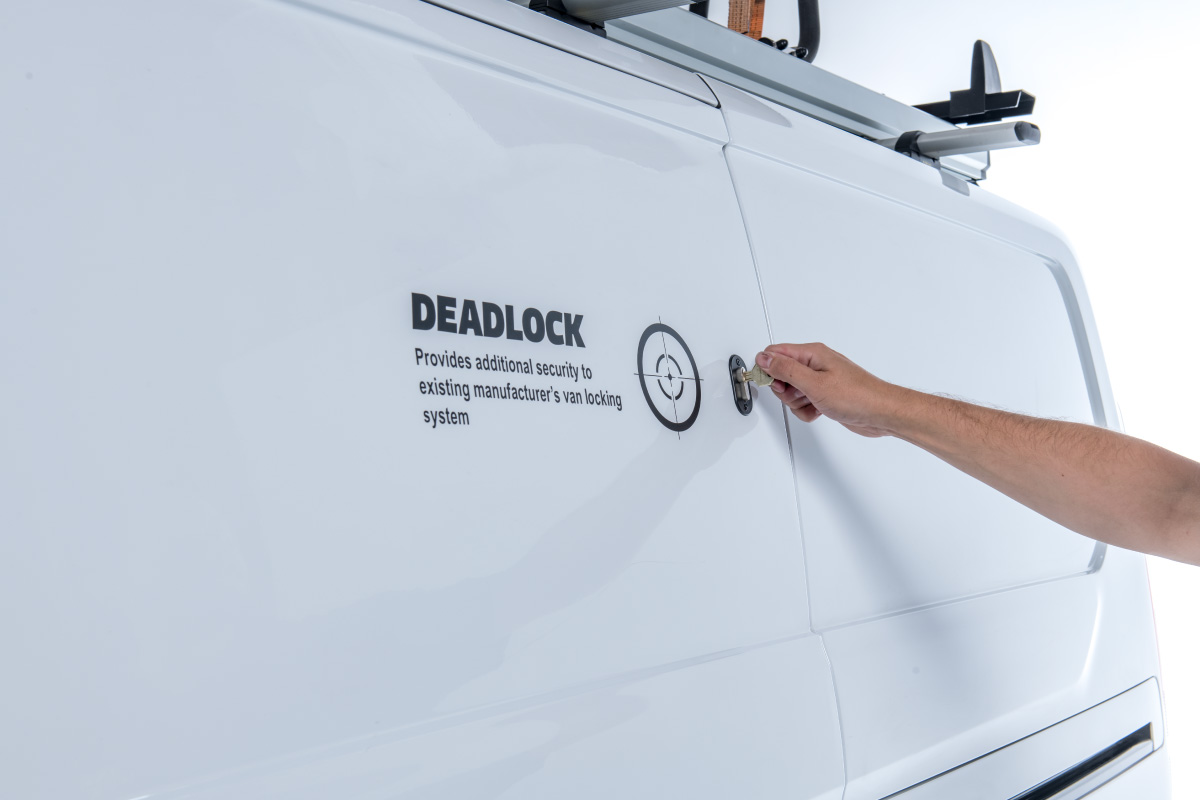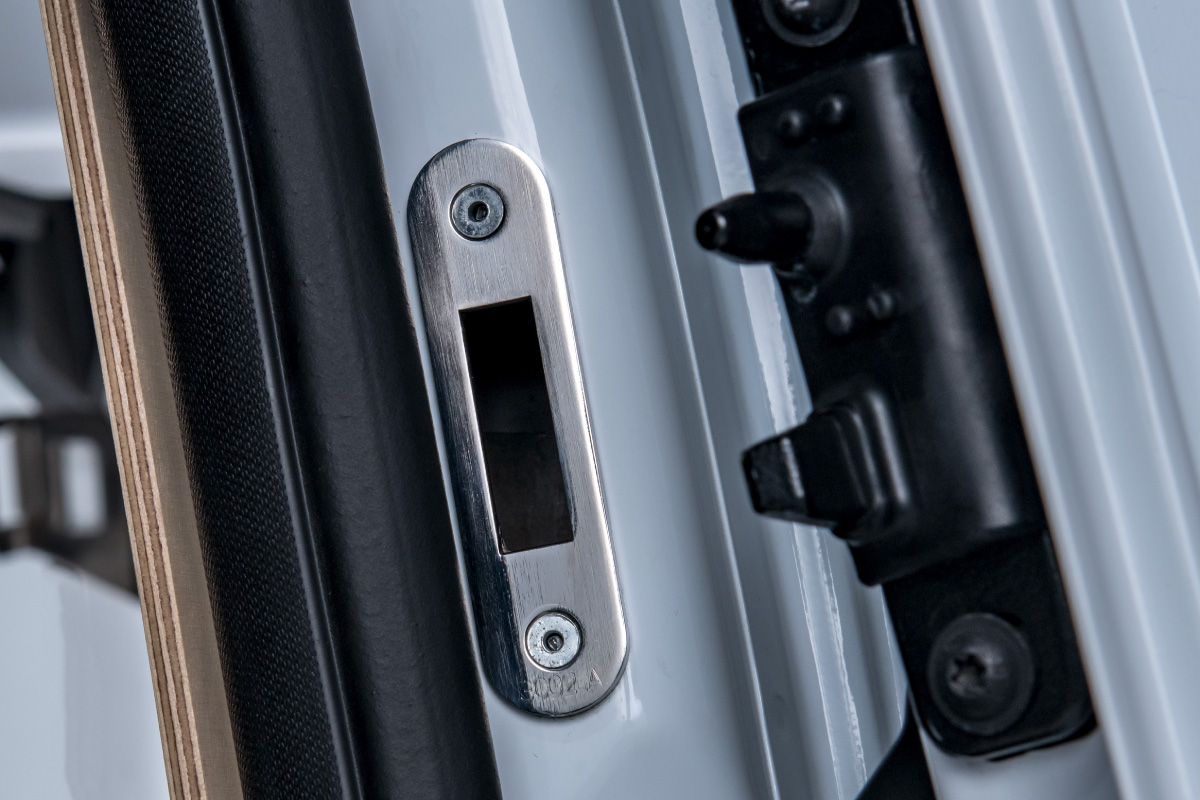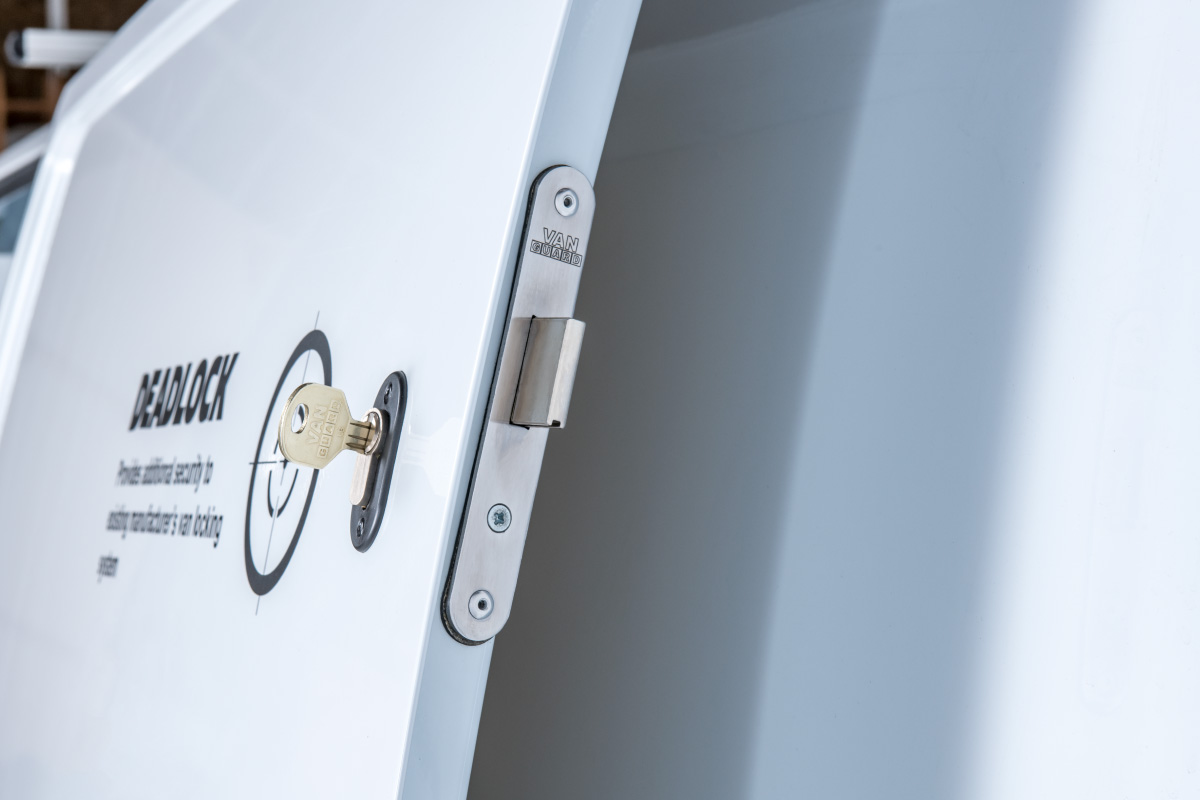 Van Deadlocks
Deadlocks are a very common and popular security upgrade available for just about every van and their respective doors available in the UK marketplace. We have a large and comprehensive range of Van Deadlocks available for virtually all van makes and models available in the UK.
Deadlocks are an additional mechanical method of adding much needed additional security to your van. Fitted to the van door and connecting body panel, Deadlocks work by throwing a bolt into a receiving bracket fitted to the van's internal bodywork and operated by an external key, creating an additional secure locking point to the vehicle door. These additional locking points are designed and placed in the best possible location on the door to help protect against van specific attacks.
With our aftermarket Deadlock being an additional locking point to the van, the cylinder on show acts as a visual deterrent as well as the lock itself acting as physical security. The cylinder is fronted by a high-quality black plastic escutcheon which has been UV treated/stabilised. 
Features:
Van model & door specific
Bracketry made from high-quality Grade 304 Stainless Steel
Higher security Dimple key supplied as standard
All locks for the van are keyed alike
Available for just about every van and door in the UK
All of our Van Deadlocks are van specific. The cylinders vary in length and we use the most appropriate one for your van. All of the bracketry is designed specifically for your vehicle and made in house with our over 40 years of manufacturing knowledge, utilising our state of the art machinery and processes. As with all of our Van Lock products such as Slamlocks, Hooklocks, Slamhandles and the Ford driver's door replacement locks, all of the keys can be keyed alike so only one key is needed for all of the locks, no matter which ones you have fitted. As standard, a high quality, more secure dimple key is supplied with the Van Guard Deadlocks. This key is both stronger and more resistant to lock picking. Manufactured from solid nickel with a large gripped bow to make use easy and convenient.
On certain vans such as the Ford Transit Custom, thieves have started to attack the vans using a method commonly referred to as "Peel and Steal". In this method of attack, thieves are crow-barring open the top of a door then applying pressure to "peel" down the top of the door to gain access to the van's load area. Due to this, we have developed Deadlocks in specific high positions that help to stop and fight against this well-known attack.
Citroen Berlingo 2018 on Van Deadlocks
Citroen Berlingo 2008 – 2018 Van Deadlocks
Citroen Berlingo First 1996 – 2008 Van Deadlocks
Citroen Dispatch 2007 – 2016 Van Deadlocks
Citroen Dispatch 2016 onwards Van Deadlocks
Citroen Nemo 2008 on Van Deadlocks
Citroen Relay 2006 on Van Deadlocks
Fiat Doblo 2000 – 2010 Van Deadlocks
Fiat Doblo 2010 on Van Deadlocks
Fiat Ducato 2006 on Van Deadlocks
Fiat Fiorino 2008 on Van Deadlocks
Fiat Scudo 2007 – 2016 Van Deadlocks
Fiat Talento 2016 on Van Deadlocks
Ford Transit 2000 – 2014 Van Deadlocks
Ford Transit 2014 on Van Deadlocks
Ford Transit Connect 2002 – 2013 Van Deadlocks
Ford Transit Connect 2014 on Van Deadlocks
Ford Transit Courier 2014 on Van Deadlocks
Ford Transit Custom 2013 on Van Deadlocks
Hyundai iLoad 2009 on Van Deadlocks
Iveco Daily 2000 – 2014 Van Deadlocks
Iveco Daily 2014 on Van Deadlocks
MAN TGE 2017 on Van Deadlocks
Mercedes Citan 2012 on Van Deadlocks
Mercedes Sprinter 2018 on Van Deadlocks
Mercedes Sprinter 2006 – 2018 Van Deadlocks
Mercedes Vito 2003 – 2014 Van Deadlocks
Mercedes Vito 2015 on Van Deadlocks
Nissan Interstar 2002 – 2010 Van Deadlocks
Nissan NV200 2009 on Van Deadlocks
Nissan NV300 2016 on Van Deadlocks
Nissan NV400 2010 on Van Deadlocks
Nissan Primastar 2002 – 2014 Van Deadlocks
Peugeot Bipper 2008 on Van Deadlocks
Peugeot Boxer 2006 on Van Deadlocks
Peugeot Expert 2007 – 2016 Van Deadlocks
Peugeot Expert 2016 onwards Van Deadlocks
Peugeot Partner 2018 on Van Deadlocks
Peugeot Partner 2008 – 2018 Van Deadlocks
Peugeot Partner Origin 1996 – 2008 Van Deadlocks
Renault Kangoo 2009 on Van Deadlocks
Renault Master 1998 – 2010 Van Deadlocks
Renault Master 2010 on Van Deadlocks
Renault Trafic 2001 – 2014 Van Deadlocks
Renault Trafic 2014 on Van Deadlocks
Toyota Hiace 2002 on Van Deadlocks
Toyota Proace 2013 – 2016 Van Deadlocks
Toyota Proace 2016 on Van Deadlocks
Toyota Proace City 2020 on Van Deadlocks
Vauxhall Combo 2018 on Van Deadlocks
Vauxhall Combo 2012 – 2018 Van Deadlocks
Vauxhall Combo 2001 – 2012 Van Deadlocks
Vauxhall Movano 1998 – 2010 Van Deadlocks
Vauxhall Movano 2010 on Van Deadlocks
Vauxhall Vivaro 2001 – 2014 Van Deadlocks
Vauxhall Vivaro 2014 – 2019 Van Deadlocks
Vauxhall Vivaro 2019 on Van Deadlocks
Volkswagen Caddy 2004 – 2010 Van Deadlocks
Volkswagen Caddy 2010 – 2015 Van Deadlocks
Volkswagen Caddy 2015 on Van Deadlocks
Volkswagen Crafter 2006 – 2017 Van Deadlocks
Volkswagen Crafter 2017 on Van Deadlocks
Volkswagen Transporter T5 2002 – 2015 Van Deadlocks
Volkswagen Transporter T6 2015 on Van Deadlocks
---