A Visionary of the Electric Vehicle (EV) – The late Sir Clive Sinclair
Posted On: 21st September 2021
As a long-standing British manufacturer with a passion for innovation, the sad news that British inventor and entrepreneur Sir Clive Sinclair had passed away last week caused us all here at Van Guard to pause for thought and reflect on what a true visionary he was.
Most famous for his pioneering role in the home computer industry, his ZX computer range brought home computer ownership and usage to the masses for less than £100 a unit. Well recognised as a man ahead of his time, he was honoured with a knighthood and made business man of the year for his role in helping create the home computer industry.
Like many great inventors his work wasn't simply, siloed into just one arena. Driven by a desire to solve everyday problems for the everyday person, Sir Clive Sinclair's lesser known inventions included the world's 1st pocket calculator, worlds 1st LED wrist watch, the worlds 1st pocket television as well as series of electric vehicles. 2 of which, The Sinclair C5 & Zike, we had the pleasure to work with him on.
Inset here is an original Sinclair C5 TV advert
Inset here is Sir Clive Sinclair featuring on BBC's tomorrow's world showcasing the Zike.
Our current Chairman, Mark Land, and Managing Director, Barry Woodward, were both young apprentices when we were approached to work on prototype EV parts for The Sinclair C5 and Zike. Formerly operating as GK Land Engineering ltd, our work in the 80's saw us work across all types of industry. That being said, the engineering work with the C5 Designer Tony Wood Rodgers sticks fondly in the memory.
"I fondly remember the many engineering challenges set by Tony in supporting Sir Clive's Electric Vehicle vision and although the commercial success was never there, Sir Clive was at the Vanguard and his EV vision was truly ahead of its time. The Picture below is of the C1 the very first prototype of the C5 being tested in our cark park in the early 80s."

Barry Woodward, Managing Director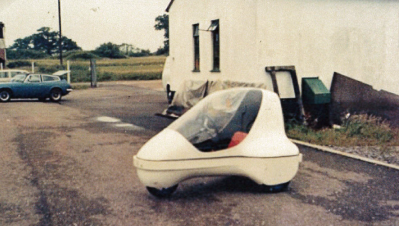 As we move into a 2022, the race towards zero emission auto industry has meant the appetite for electric vehicles (EV) is now greater than it ever has been. As of August 2021 there were more than 600,000 plug-in vehicles with nearly 300,000 BEVs and 300,000 PHEVs registered in the UK. In 2020 we saw the biggest year on year increase in electric vehicle registrations, with over 175,000 vehicles registered - a growth of over 65% on 2019.
In the wake of the late Sir Clive Sinclair, it appears this great inventor was simply that EV visionary at least 40 years ahead of his time.