DIY Van Racking – Do It or Not?
Posted On: 16th August 2018
DIY Van Racking
How often have you been in the situation where you can't find a power tool in the back of your van? You know it is in there amongst the other tools, boxes of fixings, and material but just can't seem to locate it. If you find yourself spending 10 minutes per day, Monday to Friday, searching for it, over the course of a year you'll have spent close to 2 full days of your life doing this. It does not matter what trade you are in, this is valuable time that you cannot get back. With this in mind, choosing the right van racking system for you will prove to be one of the most important business decisions you'll make.
How you kit the inside of your van is completely up to you. Ultimately, you want to keep it organised so tailoring any van racking or van storage to best suit your everyday requirements makes your time on the job more efficient. Being a skilled tradesperson, the thought of producing a bespoke DIY van racking system yourself to your very own spec may have crossed your mind.
Here we list some of the pros and cons on DIY Van Racking.
| Pros | Cons |
| --- | --- |
| Bespoke to your van | Safety issues |
| Cost | Weight |
| Easy to fit | Dated |
DIY Pros
Bespoke to your van – Once you have spent the time designing your van racking – whether that be down just the one side or using every nook and cranny available - and sourced the materials that are required, you can then start to manufacture your very own customisable, fully functional workshop. Depending on what trade you are in, you may settle for simple ply shelving, drawer & storage units or a false floor. Could be a mixture of all these types of systems!
Cost – Top choice for DIY van racking is plywood – an extremely cost-effective solution. Popular types include Chinese Plywood and a higher quality Birch Ply. If all you're looking to do is carry a few tool boxes, then purchasing and creating any form of plywood racking should do the job and carrying all and transporting all necessary tools.
Easy to fit – Internal wooden racking units are extremely easy to produce and fit meaning you do not need to be a skilled carpenter to do this. Interlocking shelves provide optimum strength providing a simple yet effective van unit.
DIY Cons
Safety issues – It doesn't need us to tell you that van safety is paramount. Major racking manufacturers will have put their van racking systems through stringent testing to show that they will remain secure in the back of the van in accident conditions. It costs a lot of money to crash test your DIY van racking system, so it's worth making that investment in crash tested van racking. Watch the crash test for our Trade Van Racking units below.
Weight – Ply racking units can be easy to fit and low in cost to produce, they are heavy and cumbersome though. The more you adapt and customise your units, more of an effect it may have on the payload of your van. Purchasing an alternative solution in aluminium van racking gives you a heavy-duty option whilst proving around 3 times lighter than a ply racking.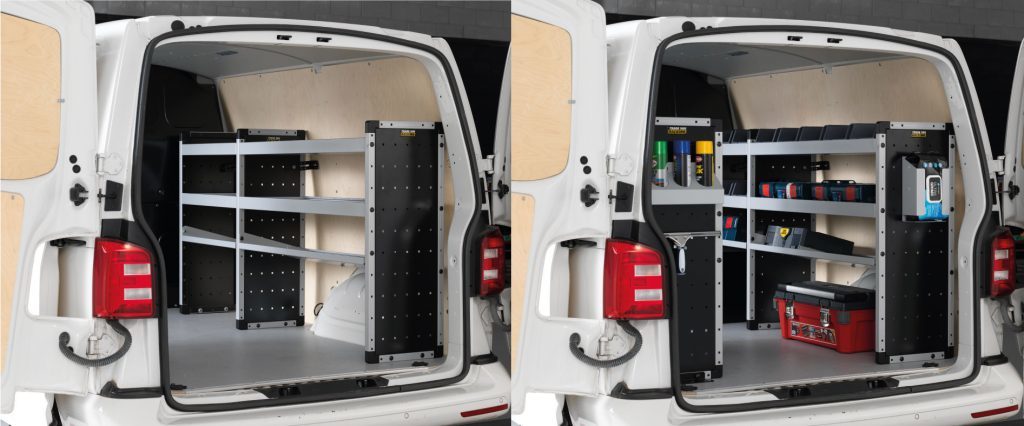 Dated – All well and good maximising the space inside your van but will you be able to transfer this into a new van in a few years' time? What happens if you build a racking unit yourself only to find that your requirements now differ at a later date? Of course, you can try and adapt, but save on the hassle with flexible units that can easily be moved from van to van or allow purpose fit accessories to be added allowing quick personalisation.
Everyone will have a different opinion on van racking. You'll be lucky to see two vans have the same setup inside. Deciding on what van racking system to settle on is an important choice but one you should do yourself. DIY means "do it yourself", not necessarily "build it yourself". With the customisable and transformational racking and storage on offer now, choosing what units you want, the add-on accessories and building it is very much DIY.
Contact us

for more information on Van Guard's Trade Van Racking units.