Internal and External Shields for Vivaro/Trafic/NV300/Talento
Posted On: 6th November 2019
Additional van security is becoming a necessity for van users up and down the country, thieves are looking for any opportunity to exploit weaknesses in the manufactures design.
The 2014-2019 Vauxhall Vivaro, Renault Trafic, Nissan NV300, Fiat Talento, is a van that has seen an increasing number of break ins. One of the way thieves are gaining access is through the rear doors, they drill into the door panel and deactivate the van locking system within the vehicle skin.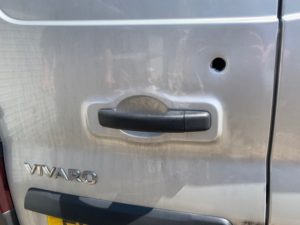 A solution we recommend is an external and internal shield, which will instantly increase the security on your van. The internal shield will protect the vulnerable area, if an attempt is made to punch a hole into the rear door, the stainless-steel plate will prevent thieves from gaining access to the locking cable. The external shield can be utilised to cover any pre existing holes caused by an attempted break in and act as a deterrent.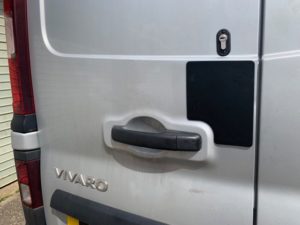 As with most security products we do recommend that the internal and external shields aren't your only form of defence against thieves. This product can be used in conjunction with other security products we offer such as deadlocks and slamlocks.
Manufactured from 2mm stainless steel, the outer shield is powder coated black to offer a sleek finish. Detailed fitting instructions, and a fixing kit are included. The internal and external shields are designed specifically for each vehicle.
For more information on any of our van security products call our specialists on 013922 368 351.