Black Internal Van Racking
Posted On: 12th October 2016
*Update: 08/08/2018 - Our van racking range has evolved considerably since October 2016.
Trade Van Racking
Our latest line in Van Racking brings our customers even more options than ever. Released in October 2017 'Trade Van Racking' is the latest line in high quality Van Racking engineering from us at Van Guard Accessories. The "Trade Van Racking" Range is universal in design but has been pre-configured for specific vans to help the customer make and easy and informed decision. All kits can be customized from shelf heights, to shelf angles as well as spray can holders, dividers and non-slip matting. Head on over to our shop to view the latest in our series of high quality van racking
Van Racking News
Best Van Racking Systems? Get advice, view videos and find installers near you >
---
We are delighted to announce that we have updated our metal racking units with the introduction of these smart new black units.
Our new racking is not only much better looking, but they come complete with revamped pricing as well, with reductions of up to 30%. Not only do our units come PRE-ASSEMBLED but they are all available for NEXT WORKING DAY DELIVERY, which is unique in the van racking market place.
Our new units will be available to purchase from Monday 17th October.
VG125/A/BLACK - 4 shelf unit with 2 rows of removable trays & 2 shelves
VG125/G/BLACK - 3 shelf unit
VG125/H/BLACK - 4 shelf unit with 12 removable trays
Dividers will no longer be supplied with the VG125/A & VG125/G units, but can be purchased separately.
VG125/DIV - Set of 3x dividers
Additional sets of our black and yellow bins can be purchased for our units.
VG125/BINS - Set of 3x trays & 12 removable bins
[caption id="attachment_820" align="alignleft" width="200"]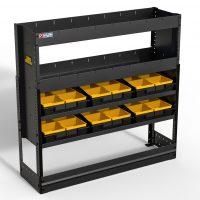 VG125/A/BLACK[/caption] [caption id="attachment_821" align="alignleft" width="200"]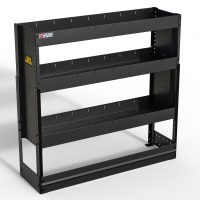 VG125/G/BLACK[/caption] [caption id="attachment_822" align="alignleft" width="200"]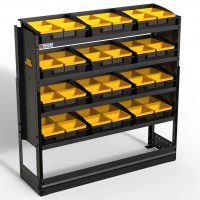 VG125/H/BLACK[/caption]
Why are they so good?
Simple and cost effective way to store and organise tools, components or materials.
Supplied pre-assembled for easy installation.
Smart appearance - finished in a tough, textured black powder coating.
Universal so they can be transferred between vans.
Long term, durable storage solution.
Made and designed in Britain.
Units can be bolted together to form larger systems.
Come with adjustable legs to accommodate wheel arches.
Optional dividers can be purchased to separate tools and materials.
Available for next working day delivery to mainland UK.
Please note that the galvanised steel racking range will be discontinued on Monday 17th October. We will not be offering powder coated versions of the 2 drawer and 2 shelf unit (VG125/B) along with the top shelf extension (VG125/F).
If you would like to know more about our internal racking units, please contact our sales team: [email protected].