Van Guard at the 2019 Coventry Tool Fair & Elex Show
Posted On: 5th September 2019
The next trade show is upon us, with Van Guard returning to the Coventry Tool Fair & Elex Show on Thursday 19th & Friday 20th September 2019 at the Ricoh Arena.
The Tool Fair & Elex Show is THE place for builders and electricians to pick up and demonstrate the latest tools and equipment, with plenty of special offers to be had over the two days.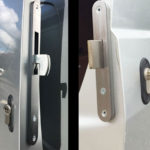 Van Guard will be showcasing the latest in van security with their all-new range of van locks and loom guards. With van and tool theft at high levels around the UK, tradespeople have had enough, so much so that they have taken it into their own hands to get the Government to do more to protect people's livelihood with the launch of the #noVANber campaign. Tradespeople are having no choice but to take action against these thieves and protect their vehicle, and this is where Van Guard come in with their vast experience in the light commercial vehicle security market. You'll be able to demonstrate the Van Guard Deadlocks, Slamlocks and Hooklocks on stand D37.
Top deals will be on offer on a range of Van Guard's load carrying and storage solutions with 40% off van roof bars, van roof racks, pipe carriers, aluminium van racking and seat covers!
It doesn't stop there! Take part in our Tool Store competition to be in with a chance of winning a £250 Screwfix Gift Card.
Entry to the Ricoh Arena is completely free, with a free bacon roll and t-shirt for all Tool Fair & Elex visitors. Register here.